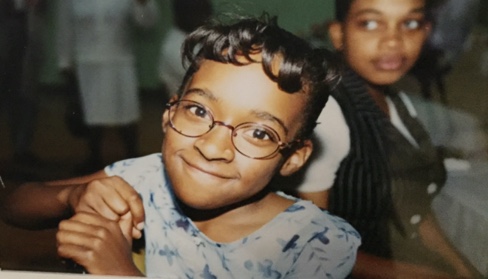 For as long as I can remember, I've always set myself up to get my heart broken.
If I could re-call my first heart break, I would say it happened when I was in the 6th grade. I had, unfortunately, fallen "in love" with my best friend.
His name was Isiah (YES I'M USING YOUR REAL NAME HOPE YOU'RE NOT READING THIS!), and I first laid eyes on him in 5th grade when I finally stopped being a punk and joined Children's ministry at church.  
It was Wednesday night and we had free time to do our own thing and I was practicing for a school play, where I literally only had like 2 lines, LOL and thought it would be a great chance to act like I ain't know my part and he could help me practice for my lines! All of two. Smh.
He agreed and from that night on we were the best of friends. We would sit together every service, welcome other people into our circle and talked on the phone nearly every week after I got over the fear of his mom answering the phone.
We had dubbed each other best friends, while I slowly but surely fell more in love wondering if he would ever feel the same about me. I mean how could he not? We were together constantly when we were at church and talked nonstop outside of church. Being together for the rest of our lives made absolute perfect sense, right?!
Wrong.
I remember the day I came into Kid City (children's ministry), excited to sit with the usual peanut gallery and there was another girl sitting in my typical spot next to Isiah. The peanut gallery already caught wind and copped seats in the row ahead of them, but I refused to just let that slide. I made Isiah and ol' girl scoot over so I could sit with them but he literally paid me zero attention the entire time. He was smiling and blushing and helping her with every little thing he could. It made no sense to me. He introduced us, and I would so say her name if I could remember it. It was ghetto though. PLUS he had made her like a homemade card for some reason. I can't remember today what it was for, probably her birthday, but it was a nice card! I was LIVID!
Who was this chick? Hardly ever came in contact with baby girl in my life before that day. Plus she was NINE! We were 11! We ain't roll with nine year olds!
I had to get info on who this girl was and quick.
Before the week was out and after three services of Isiah being drunk in love and up under her butt, he finally told me.
"Ghetto name is my girlfriend, Tiff."
He ain't say ghetto name, but I legit do not remember what it was lol.
I was devastated. Crushed. I had gotten one upped by a 3rd maybe 4thgrader for my best friend's vie of affection. EYE wanted to be his girlfriend. I should've been his girlfriend!
I couldn't lash out or stop being his friend only because he had no idea how I felt about him. And he was so happy to be up under this girl, who had a lot of attitude and was super possessive for a nine year old! She bumped me to the side real quick! Isiah could hardly sit with us, let alone ME if she was at church. I would always pray that her momma wouldn't bring her, just so I could have my best friend back.
Let's just say I was happy whenever they broke up and I believe a year or so later I found out that Isiah had actually liked me the entire time we were friends but was always too scared to say anything. Which was so unfortunate because by the time we both discovered we actually were super into each other at one point we had let the love die.
After my first heartbreak it seemed as if the rest of my heartbreaks would be similar. I was always super into a guy and he would end up choosing someone else over me.. (later on in life cheating on me but that's another blog for another day child) and I believe this started the decline in my self-worth.
The feeling of not being "good enough" for the one I wanted.
I noticed this vicious self-inflicted cycle and asked God to show me what the problem was. Why was I always in a position where I was too much or not enough for the guy I had my heart set on? Why was I always stuck, being put the side, as the 'man of my dreams' pursued someone that wasn't me?
Aye let me just say this. Be careful what you ask God for.
You know what this man said to me?
You want to be in control of your own love story. That's part of the problem.
I wanna be what?!!
No I don't! What I WANT is for a man to SEE me from jump and realize that I'm everything he's been missing and I don't have to put in the work to get him to see that! I want to stop being invisible! I want to be wanted! I want to-
Stop getting hurt?
…
Silence.
Yeah. I wanted to stop getting hurt. I wanted to stop being disappointed. I wanted to stop getting looked over. I wanted to be enough. Everything I have to offer and everything I am, I wanted that to be enough for someone. And not just someone but..
THE one.
And God was right. Being a writer and writing about love and day dreaming about love had created an unrealistic fantasy of what I perceived love to be. I expected it happen one way. And when I saw an opportunity of someone that could fit this picture I created in my mind, I would plot and plan to get what I thought I wanted.
That's not natural. That's not how love with another person is formed. It's not the reality of love.
And because of my unrealistic expectations, I let them alone fail me each and every time. Here I was, moving out of my own desperation, and not allowing God to be the center. I had to realize that this is a place that's broken in me. That I have to let go of the little girl that wants the fairy tale, the Disney movie, the happily ever after.
I had to stop making an idol out of romance.
I wanted so bad to find my worth in a man and a relationship, that I was forgetting that a man could never provide that for me. That a person could never provide that for me. I was still going to be empty. No amount of desire, affection, attention, affirmation or love from another person could make me whole.
I had to find that in Christ.
I had to read what the word says about who God says I am. How much he loves me, how beautiful he thinks I am, how I was worth sending his son to die for, how he formed me in my mother's womb, how the hairs on my head are numbered meaning he knows every single detail about me because he CARES about the details.
I had my prince charming in my face. The man of my dreams laid his life down so that my soul would be saved.
No man on earth can ever or will ever do that for me.
THIS was love. In the most purest and truest form. This was the love story I had been seeking my whole life.
THAT had to be enough. Jesus had to be enough for ME.
Here I was getting rejected by men that were never meant to hold a place in my heart, and not realizing that what I needed, I already had.
Love, affection, attention, affirmation, desire, want, longing. I had all of those things already. I didn't have to search for it. I didn't have to look my best, or be in the right place at the right time. I didn't have to scheme or plot for this.
I already had it. It was already mine. He loved me FIRST. He pursued me FIRST. He wanted me FIRST! I am the crown of creation. The apple of his eye. The center of his affection.
The rest will come. In the meantime..
I have Jesus. He's the one.  
And the best part?
He didn't come to break hearts.. but to mend them.
XOXO