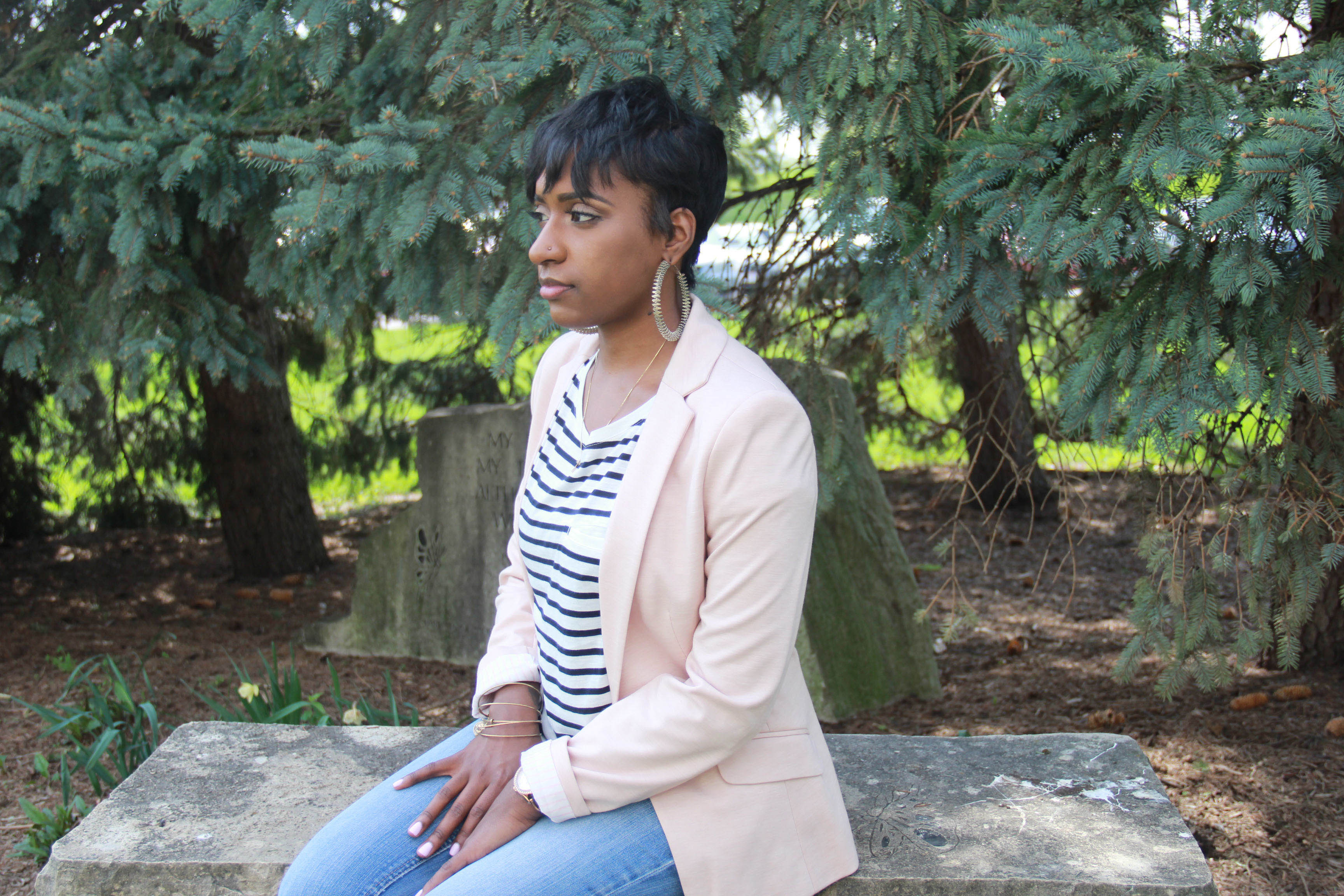 A few weekends ago, it was like I was stuck in a time machine and I couldn't bring myself to come to present day.
The year I was stuck in mostly was 2014. It was a year that started with a lot of loss. I first lost my guy best friend that had been a part of my life since I was 12 years old over miscommunication, and that same day my paternal grandmother took her very last breath. 6 weeks later, I lost my maternal grandmother and made the decision to move back home from Chicago to help my parents with the grieving of their mothers and the new added responsibility they had inherited. Throughout that year, my then boyfriend and I were breaking up like every other month due to nonstop drama and I was still skeptical if I was going to truly give this "God" thing one more try. I remember going into 2015 with sad tears in my eyes, while weighing 99 pounds. The lowest I had weighed in my adult life.
As you can imagine, it was a trying and stressful year that I have often tried to forget and mask over with suppression.
It wasn't until I realized that my old best friend was getting married and I wasn't going to be a part of that moment or his life ever again, that a grief I never allowed myself to fully feel had over taken me. Not just for him, but for everything that I'd lost over the years.
Grief has a strange way of hitting you. First you're extremely sad, and then you get angry and then.. then for me it took a turn.
Guilt began to sink in.
I was feeling guilty because maybe, I could've expressed myself differently prior to our friendship ending. Maybe, when I came home to visit Ohio two weeks before my paternal grandmother died, I should've taken my mother up on her offer to go see her. Maybe, I could've called my maternal grandmother more before she was diagnosed with Alzheimer's. Maybe I should've ended that relationship the first time I got cheated on. Maybe I should've never given up on God to begin with. Maybe I shouldn't have ran away from my problems by moving to Chicago so suddenly. Maybe, just maybe.
My mind was floating with different decisions and I was struggling to forgive the person I was when I was broken.
It was hard for me to forgive myself. It was hard for me to come to grips with the fact that broken people handle things brokenly.
All I could see was then, I couldn't see now. I couldn't snap out of it. I was sad, borderline depressed and nothing anybody could say could snap me out of it. I didn't want to be out of it. I wanted to punish myself over and over again because I thought that's what I deserved.
It wasn't until one of my best friends, Aja, sat me down to lovingly and gently snap me out of my funk. She cried on my behalf because I could no longer bring myself to cry. She reminded me of who God is and how faithful He has been in my life. She told me I was an amazing friend and always have been despite my shortcomings and that I was no longer the woman I was then, let alone a year ago. She lifted me in a time where I couldn't lift myself, and with the help of the Holy Spirit guiding her, began to remove the dark cloud that I had allowed to hang over my head.
I felt I was getting the strength to fight back against what the enemy was trying to do which was to keep me locked in the past.
The past had become something I had made an idol of. No matter where I was heading, I was always looking back. Always looking back to where I failed. Always looking back at the pain. Always looking back at what could've been or should've been different.
You know what's awful about looking back? It's almost impossible to focus on what's ahead.
The bible has some choice words about the past life that we love to place on a pedestal.
"…but I focus on this one thing: Forgetting the past and looking forward to what lies ahead." Phil 3:13 NLT.
Paul wrote these words and if there was anyoneee who had a past worth forgetting it was him. To be a man who was once killing those who believed in the Gospel to writing ¾ of the New Testament, he had to forget the past in order to allow himself to be used by God in such a magnanimous way.
Like Paul, I had to first realize that my past only had the power I allowed it to have, and that the things I was trying to cover up, God had already forgiven me for.
"But if we confess our sins to him, he is faithful and just to forgive us our sins and to cleanse us from all wickedness." 1 John 1:9
Yes, I was a broken girl who acted out of my brokenness… but God forgave me.
Yes, I ran from my calling and did everything I could to escape the hand of God… but God forgave me.
Yes, I was foolish in my last relationship and lost several friendships because of it… but God forgave me.
I had to stop putting myself on the cross that Jesus already died on.
I had to forgive myself, and truly Let. Go. Of. The. Past.
Nothing about it I could change. We don't have time machines in real life, so why I was purposely imprisoning myself in one?
I had to stop making the past such a big deal, when the woman I am today is nothing like who I used to be. I had to look at the girl in 2014 and prior years and forgive her. I had to stop looking back at the place that God had already delivered me from. I'm not perfect by any means, but I'm allowing God to mature me and grow me up. I'm allowing my toxic behaviors to be exposed and changing my mindset on them. I'm growing in relationships and learning what true friendship and true love means. I'm loving myself more as the days go on, and I'm growing in God like I never have before.
I'm different today, and allowing freedom that knowing Christ gives to transform me in every single way.
So knowing this today, I have to forgive myself for yesterday and let tomorrow be what it will be. I have to stay present. I have to focus on today. Seek God first and everything else will be okay.
In the bible.. can ya'll tell I've been in my worrrdddd though?!
Anyway in the bible, it puts it a little something like this..
"Seek the Kingdom of God above all else and live righteously, and he will give you everything you need. So don't worry about tomorrow, for tomorrow will bring its own worries. Today's trouble is enough for today." Matthew 6:33-34 NLT
Everything I need? That doesn't exclude forgiveness. That doesn't exclude the power to overcome and let go of the things I cannot change. I can do it, because he's already done the hard work.
I just have to walk in it and own it.
And like I say alllll the time. If EYE can do it, YOU can too.
Let's step out of our time machines and live in today.
It's so much better here anyway.
XOXO